About Us
Carechip is an engineering and software services company focused on the design and verification of integrated circuits, based in Portugal. The company's core expertises are in the analog /mixed-signal design and verification of circuits for applications such as signal processing, audio, video, power management and for space. The company has proven results using a broad range of CMOS/BiCMOS technologies - which include deep-submicron ones. The company is experienced in the usage of a broad variety of design tools from the major EDA (Electronic Design Automation) players.
The company has also expertises in the development of design tools, and in the development of PDKs (Process Design Kits).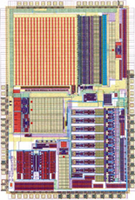 Mission
Carechip's mission is to provide world-class design and verification services which meet the customer needs.
People
Carechip was founded in 2009 by a university professor holding a Ph.D. from the Instituto Superior Técnico in Lisbon Portugal. He has more than 50 technical publications in the field of semiconductors. Has also been serving the Semiconductor industry over the last 10 years, participated actively in several projects such as A-to-D converters for Video Applications, and power management circuits.